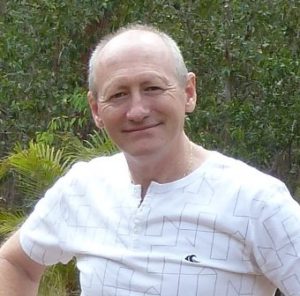 Terence Atman is a Creative Thinker, Gifted Inspirational Speaker, and Facilitator.
He is a highly trained and qualified Counsellor, Psychotherapist, Clinical Hypnotherapist, Neuro-Linguistic Master Practitioner, Life Coach, Yoga and Meditation Instructor, Author, and Spiritual Teacher, who delivers robust programs that impact and empower people.
He has owned and managed a succession of thriving businesses in the fields of electronics, personal development, coaching, and training. Over the years, Terence has developed numerous personal development workshops for the general public and corporate. He has also produced specifically tailored yoga therapies designed to heal, facilitate and inspire growth and change in people. Now, based on the Central Coast, NSW, using his unique combination of skills, Terence works uniquely with clients' needs, helping them create a satisfying life filled with meaning, positive relationships, and emotional well-being.
---
Find Out More About Terence (click here)
In early childhood, Terence had an awareness of something greater than himself. At the time, he was unable to make any sense of it and therefore let it go. Later in his teens, he began to feel as though something was missing in his life. He was restless and discontented with the ordinary things of life, and was becoming rather antisocial. Then for no apparent reason, he began having out of body experiences, which attracted his attention in a big way. These inexplicable events shocked his awareness out of its usual mode and into a deep remembrance of a larger more encompassing reality of which he was a part. These incidents along with a growing interest in spiritual awareness marked the beginning of his quest for truth; henceforth his spiritual journey began in earnest. From then on, he explored many avenues of spirituality including a variety of religions, metaphysics, new-age teaching and eastern philosophies. He also read many books and studied everything he could find on the subject. By the time Terence was twenty, his aspiration for truth had reached fever pitch. Almost every weekend and evening he would attend spiritual groups or workshops. This intensity soon resulted in frequent experiences of extreme joy and overwhelming love, which often left him with tears streaming down his face. Terence knew then that he had to dedicate his life entirely to God, for no worldly endeavour could ever satisfy the deep yearning in his soul.
As a part of his journey, he began practising yoga at a local branch of Satyananda Ashram. Soon after he joining the ashram and was initiated into the order of sannyasa by Swami Satyananda Saraswati and spent the following five years living, working and teaching at the ashram. The life was austere and had little sensual gratification. Discipline was self-imposed, and everyone was expected to comply with ashram protocol. He worked hard seven days a week from morning until night and in so doing learned many practical skills that have been very useful ever since. Even though conditions were quite austere, he loved the life and was continuously in a state of joy. He became a dedicated and committed student and diligently did his practices every morning, even if it meant getting up in the cold at two-thirty a.m., which was his routine for most of the time he lived there. Finally, there arose in him an inner knowing that it was time to leave the ashram and return to the world. The transition caused him considerable stress and required lots of adjustment in his thinking. Relating to the ordinary things of life was not easy because he had no interest in the material world.
With his technical qualifications in electronics, it was easy to find a job straight away, but it wasn't long before he began making plans to start another electronics business similar to the one he left behind when entering the ashram. After nearly eighteen years of successfully running that business, he decided to leave it and once again follow his greater calling. Throughout his working life, Terence maintained his devotion and commitment to his spiritual unfoldment and continued his daily practices of Yoga and meditation beginning every morning at four-thirty. Also, he continued to teach Yoga classes and periodically conduct discourses on various spiritual and metaphysical topics. Never did he for a moment lose sight of his innermost yearning for Self-realisation. Somehow, he knew deep in his soul that his life would not finish until this was accomplished.
Toward the end of his business career, Terence was blessed to meet his future wife and twin soul, Angelica. Not only were they in perfect harmony with each other, but they shared the same passion for teaching and Self-realisation. Within a little, over a year they were married, which marked the beginning of a new life for both. For some time, they continued conducting workshops and running seminars. However, something greater was calling them both, which finally lead them to retreat into solitude and go more deeply into their spiritual work. A few years later a significant metamorphosis came in Terence's consciousness. An intense lovingness began flowing through his whole being, and with it, all fear dropped away as though it never existed. The old awareness of uncertainty was now one of absolute knowingness. Everything he had previously learnt began to make sense. Knowledge about life, death, and consciousness flooded through his mind effortlessly; in fact, everything he put his attention on became illuminated; things that he had pondered for most of his life were now as clear as day. No longer could he call himself a seeker, for now, he had found that which he had been seeking all his life. Even though this state was not yet a permanent condition, the transformation in his personal consciousness was. With this higher awareness comes an unqualified knowing that this is just the beginning of a never-ending journey, which will gradually lead him into the very heart of God.
Relevant Qualifications:
Master of Counselling and Applied Psychotherapy (Current)

Graduate Diploma of Counselling
Advanced Diploma Clinical Hypnotherapy

Advanced Diploma of Psychotherapy
Advanced Diploma of Neuro-Linguistic Programming
Diploma of Clinical Hypnotherapy
Diploma of Neuro-Linguistic Programming
Certificate in Speaking and Communication Skills
Facilitators Qualification in Yoga Teachers Training
Diploma in Media Electronics
Trade Certificate in Electronics Repairs