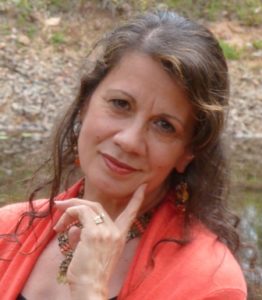 Angelica Atman is highly qualified in all areas of human development.
She is an experienced Counsellor, Psychotherapist, Clinical Hypnotherapist, Neuro Linguistic Master Practioner, Life Coach, Yoga and Meditation Instructor, Reiki Master, Author, and Speaker. She also has an extensive background working as a Corporate and Self Development Trainer and Instructional Designer.
In her role as a Training Manager and Training Consultant, she specialised in the design, development and facilitation of hundreds of personalised training programmes ranging from product specific training, to leadership, sales, stress management, and personal development. Her experience provided a platform to better understand the needs of people and fulfilled her sincere desire to be of service to others and bring the principles of integrity and truth in the workplace.
Now based on the Central Coast, NSW, Angelica shares her love and gifts with many people, providing counselling, psychotherapy, clinical hypnotherapy, and coaching services. She also facilitates corporate, spiritual and self-development groups and workshops. Angelica's  enthusiasm, natural empathetic style and encouraging demeanour coupled with her absolute love of teaching and unwavering belief in people's possibilities, is evident by the way she can engage, motivate and empower individuals to break free of limitations and self-doubt – everyone feels empowered.
---
Find Out More About Angelica (click here)
Angelica's insatiable yearning for the higher Truth and her connection with Divinity began as a child. Growing up, she had a remarkable opportunity to spend a lot of time with the nuns in her local village. It was then that she began to develop a keen sense of awareness and love for God. As the years went by, she had many spiritual experiences that touched her heart profoundly and strengthened her resolve to know and serve God, and by an early age, she made a decision to devote her life to God and become a nun. Through a series of circumstances, by the time she was eleven her parents left their hometown and migrated to begin a new life in Australia.
Life as she knew ended and a whole new reality opened up as she came face to face with the challenges of being part of a new culture and society. The nuns at school did not seem to embody the same softness and lovingness that she was accustomed to; instead, they appeared harsh and disciplinary. Although she remained devoted to her faith and God, life took a different turn, and instead of becoming a nun, she married quite young and birthed into the world, four beautiful souls. Throughout the years, as she pondered her religious teachings, she could not reconcile many things. She struggled with the concept of 'sin' and judgment and could not make sense how a loving God could cast souls into hell for the whole of eternity nor how He needed appeasing by acts of martyr-hood, self-sacrifice or punishment. She questioned how these ideas could be congruent with an Omnipotent, Omnipresent and Omniscient God. She could not reconcile all the suffering in the world or make sense as to why some people were born in privileged conditions while others appeared to be disadvantaged. She began to question seriously many of the precepts and interpretations she had been taught and had accepted as true. In the grip of this pessimism, as more questions arose Angelica found herself experiencing confusion and inner conflict. The fear of 'sin' had rooted itself in her consciousness and gave way to guilt and judgment, which prevented her from accessing deep states of connection. For years, the pendulum swung back and forth in an attempt to uncover the truth.
After much souls searching, she began to realise that what she had been taught and learned needed to be raised to a higher level of understanding marking the beginning of an intense enquiry process that began to stretch the boundaries of her awareness. The more she enquired, the more she wanted to understand the nature of consciousness. In her eagerness to know, she developed a deep interest on how the mind and brain work in relation to human behaviour, and did lots of study on motivation and psychology and applied the strategies and understanding in her personal and working life. Throughout all of this, the calling in her heart remained, and her search for deeper truth continued. She could not read enough spiritual literature to satisfy the yearning. It didn't offer the answers she was seeking, so she moved away from her traditional religion and went on to explore many different modalities and pathways, from metaphysics to eastern philosophy and yoga in an attempt to find Truth that ultimately would unite her with God.
She subsequently travelled to a number of different countries including South America, Japan, and Israel seeking spiritual wisdom and knowledge. All this activity quickened her awareness and fuelled her passion for Self-realisation and God-consciousness even more. She came to realise that if this were to be accomplished, it would be necessary for her to seek beyond her personality, concepts, and beliefs and into the lengthy and very dedicated study of consciousness and spirituality.
From then on, her consciousness began to shift to higher levels of understanding. Everything changed; she could no longer see life in the same way and relate to the ordinary things of the world as she used to. It was during this time that she withdrew from her corporate career and focused her attention more fully on her spiritual journey. She then met and later married her twin soul Terence, and together they embarked on a profound spiritual journey facilitating workshops and groups in Australia and Singapore. After that, they retreated from the world for a period, which facilitated an even greater transformation in consciousness. A whole new paradigm of awareness emerged, resulting in ecstatic states of bliss along with profound insights into life that were far beyond ordinary reasoning. The more profound truths within spiritual teachings became evident. Questions about science, religion and spirituality were being reconciled seamlessly, and the shadows gave way to the light. As the heart opened, love began to pour forth unobstructed like never before. It was as if a river of light, was illuminating her whole consciousness. At times, she would find it difficult to assimilate it all and was often moved to tears of joy and gratitude. At other occasions, she would enter states of loving so sublime that words could do no justice.
Angelica's inner journey has not always been straightforward and has required a lot of humility and trust, as it was not always easy for her to relinquish deeply ingrained patterns in her psyche. Now, having broken free from the illusion of the many mistaken perceptions, she understands what it takes to crack the shell of the ego. She can do nothing else but continue to live in surrender to Divine Will, and in union with her loving husband dedicate her life toward helping others in their blessed journey to dismantle the illusions of the ego mind and find the essence of truth and love within.
Relevant Qualifications:
Master of Counselling and Applied Psychotherapy (Current)
Graduate Diploma of Counselling
Advanced Diploma Clinical Hypnotherapy
Advanced Diploma of Psychotherapy
Advanced Diploma of Neuro-Linguistic Programming
Diploma of Clinical Hypnotherapy
Diploma of Neuro-Linguistic Programming
Workplace Trainer Category 2 Certificate IV
Trainers Track – Train the Trainer Certificate
Master NLP Certificate
Creative Training Certificate- Level 1 & 2
Diploma in Mortgage Lending
Secretarial Diploma